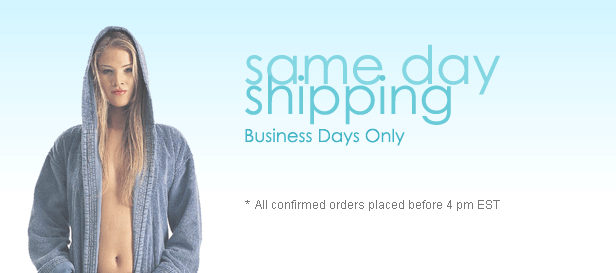 Bathrobes-Online.com
is the manufacturer's shopping website and direct supplier of men's and women's bathrobes and towels involving no middleman adding more savings to our customers. As a third generation family business in bathrobe and towel manufacturing industry with experience in weaving, spinning, dying and sewing; creators of
Bathrobes - Online Web Store
brings you excellent quality products manufactured in a modern integrated facility located at the heart of Denizli textile region in Turkey.
Three daily pickups from our warehouse guarantees the fastest delivery time in the industry. All of our bathrobes are pre-shrunk, made of 100% Turkish cotton manufactured from the highest grade cotton with extra long fibers. This ensures the bathrobes will be very absorbent and soft.
When you puchase a product from our online store, whether its a thick hooded full length bathrobe, a lightweight kimono robe or a terry cotton body wrap, we guarantee your satisfaction.
If you are looking for other Body & Bath products with your Arus Bathrobes visit
www.bathrobeshop.com
,
www.topnotchgiftshop.com
,
www.bathrobesonline.com